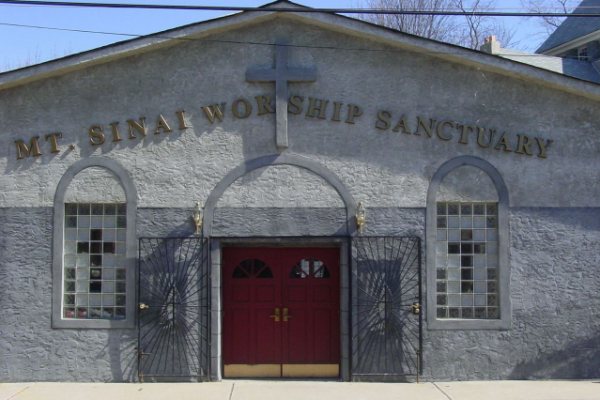 In the year of our Lord, 1979, Bishop Thomas E. Brown expressed a deep and sincere desire to open a church where all the people could worship freely, irrespective of race, creed, national origin, or religious affiliation.
In 1980, the first service was held in the Brown family home. In 1981, Mt. Sinai opened its doors a 906 Post Ave, with evangelism as its main thrust. "it was He who gave some to be apostles, some to be prophets, some to be evangelists, and some to be pastors and teachers. To prepare God's people for works of service, so that the body of Christ may be built up until we all reach unity in the faith and in the knowledge of the Son of God and become mature, attaining to the whole measure of the fullness of Christ" (Ephesians 4:11-13).
In 1984, Mt. Sinai relocated to 187 Victory Boulevard and in 1986, moved its congregation to 76 Victory Boulevard. In 1987, Bishop Brown went to be with the Lord, and Rev. Victor A. Brown became Pastor. Weekly Bible Study became an essential part of Mt. Sinai's existence and tithes and offering s became the means by which the Church was and continues to be maintained.
Mt. Sinai functioned as an independent Methodist church until 1991 when the Pastor, Board of Trustees, and the Congregation made the decision to become a non-traditional, non denominational Living Word of God Church
The Ministerial Staff consist of the Associate Pastors who hold a Certificate of License to preach, teach, or perform baby dedications. They hold the title of Minister. The other Associate Pastors are ordained. Only ordained ministers are allowed to perform all of the sacraments including weddings and funerals. They carry the titles of Reverend, or Bishop.
The Board of Trustees and the Minister of Finance are appointed by the Senior Pastor and serve as the governing body of the Church. They, along with the Senior Pastor, monitor and control all finance reports, property assessments, and taxes. They meet periodically to review financial statements, annual reports, and bank statements.
The board of Deacons is appointed by the Senior Pastor for the purpose of serving the Lord by doing the benevolence work, visiting the sick, and being alert to the spiritual needs of the congregation.